Home Office
With the country on lockdown, many of us are now having to work from home and if you are new to this concept, it can be extremely difficult to get into a consistent routine. Although the idea of taking business calls while admiring your flourishing herb garden or attending a virtual conference from the comfort of your chaise longue might seem rather appealing, it can prove challenging to get any steady work done. 
When working from home, the goal is to create the perfect equilibrium between your home life and your work life; this can be a tremendously difficult task when your kitchen table is your new meeting room and your couch becomes your favorite lunch spot. Having a designated room or space will greatly improve the quality of your work. Keep in mind that your home office does not need to be fully fitted with high-tech equipment, take the opportunity to be creative and use the resources that you have available to you. We have put together a list of important factors to consider when setting up your home office to ensure optimum productivity.
1. Location, Location, Location
The first thing you need to consider when designing your home office is location. It can be difficult to strike the right work-life balance at the best of times and this becomes exponentially more challenging when you are working from home. You need to have clear separation between the two; the easiest way to do this is to ensure that your office is located away from distraction, in a slightly secluded area of your house. Ideally, you should choose a spot that is not in close proximity to loud, hectic rooms such as the kitchen.
It is also important to consider external noise such as a busy main road as it may cause disruption to your work. Of course, you may not be at liberty to choose a noise-free space, in which case you could consider soundproofing options. Most importantly, do not forget to ensure that your office is in a location with access to high-speed internet.
2. Lighting
Lighting is one of the most important elements of a home office. Poor lighting can lead to a number of health problems, such as: 
Headaches
Eyestrain
Poor quality of sleep
Depression 
To avoid these problems, you should ensure that you have optimal lighting in your office. Using a combination of natural lighting and artificial lighting will greatly increase alertness and productivity.
Natural Lighting: 
If possible, make sure there is some form of natural light entering the office space. Natural light is proven to reduce eyestrain and headaches and boost productivity. Try to position your desk next to a window.
Artificial Lighting: 
If you do not have access to natural light in your office space or if you often work late in the evening; try to source a combination of ambient and task lighting. The purpose of ambient lighting is to mimic natural light without been too bright and evasive. Task lighting, on the other hand should act as a focused, adjustable light to luminate a specific area of the room. Try to re-think the lighting that you already have; perhaps there is an unused lamp in the house that would be a perfect addition to your office.
3. Space
Space is a vital aspect of any home office. Try to figure out the measurements of your room to ensure that you have enough space for essential work equipment such as your desk, chairs, printer etc. Also allow for ample storage space, the last thing you want is to have work documents spilling into your dining area. 
4. Ergonomics
When working in an office setting it is easy to spend numerous hours in the one position without realizing it. This can lead to back, shoulder and neck pain. With that in mind, it is important to select ergonomic workstation equipment. Typically, an ergonomic office chair will provide back support and can be adjusted to your chosen height. Similarly, an ergonomic desk can be adjusted in height to allow the user to switch between a seated and standing position. 
During this time, trips to furniture shops is not an option. Instead try to improvise and be creative with the furniture that you already have. Test out multiple chairs in your house to find the most suitable one. Try to be resourceful when it comes to adjusting the height of your workstation equipment. Books can be a great ergonomic tool; they can be used for propping up your laptop to avoid neck pain or under the legs of your table to adjust its height.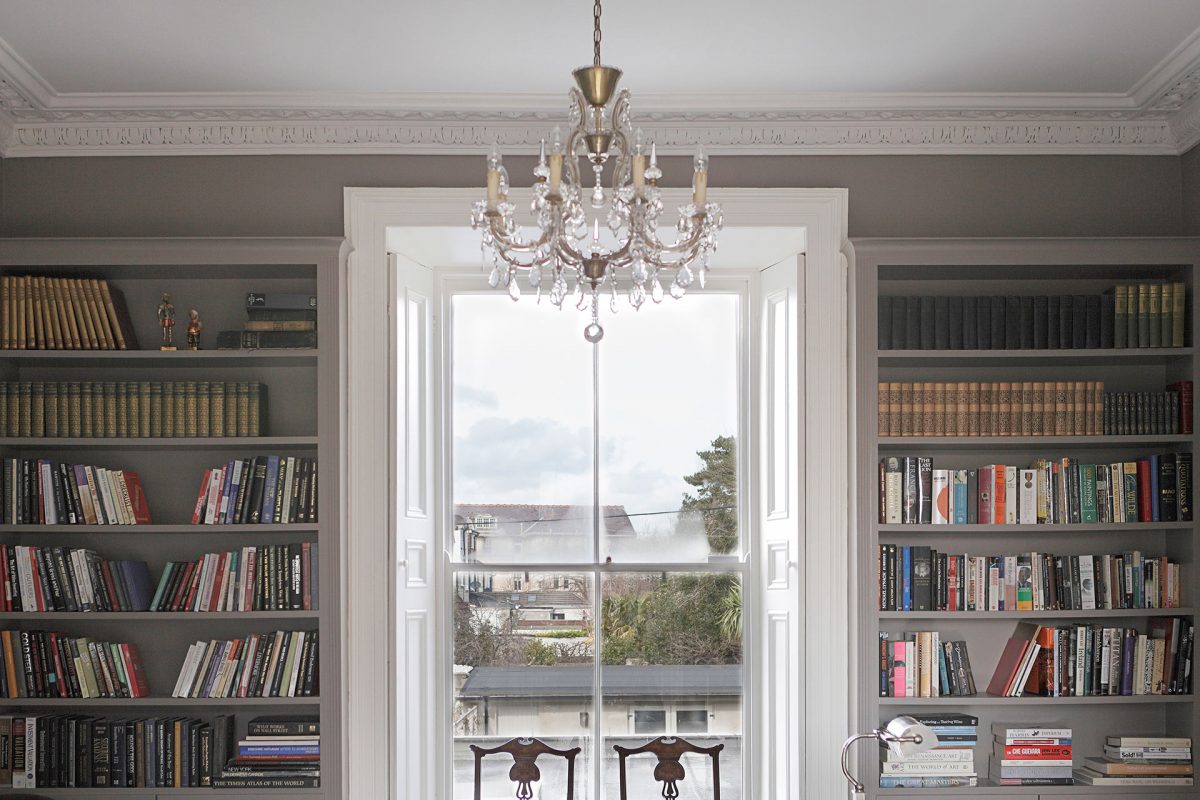 5. Colour Scheme
With everything that is going on, many of us seem to have extra time on our hands and if you are looking for a DIY project, this next topic may be of interest to. Colour has a huge impact on the atmosphere of a room; so try choose tones that enhance your sense of awareness. Due to the fact that colour is highly subjective, there are no right or wrong tones to go with.
In general, vibrant colours such as red and orange are known to instill an atmosphere of determination and alertness. Whereas shades of blue create a calm ambience, reducing the effects of anxiety. The colour green is associated with abundance and financial stability, making it a rather fitting tone for a home office. If you are someone who is triggered easily or has difficulty concentrating, it is advisable to decorate your office with soft, neutral colours like off-white and grey. Before settling on your final colour scheme, identify your preferences and become familiar with colours that enhance your mood.

6. Finishing Touches
The fantastic thing about working from home is that you have the ability to be creative when designing your office space. Unlike your traditional workplace you can decorate your home office however you like. Peppering the space with inspirational art pieces is a great way of personalizing the room, thus making it a more enjoyable place to spend time. In this particular situation, improvisation is key. Use your imagination to repurpose objects and furniture in your home.
This is not a definitive list of factors to consider but some important ones to get you started. Just remember that you are going to be spending a large part of your day in this space, so take your time putting it together and enjoy the process!